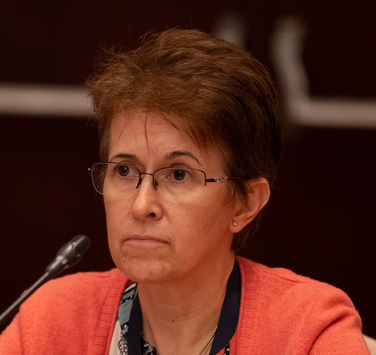 Conf. Univ. Dr. Irene Davidescu
Assoc. Prof. Dr. EUGENIA IRENE DAVIDESCU
Associate Professor Eugenia Irene Davidescu, MD, PhD is consultant neurologist since 2005, and psychiatrist specialist since 2015, carrying out clinical and didactic activity at the Department of Clinical Neurosciences at Carol Davila University of Medicine and Pharmacy Bucharest- Colentina Clinical Hospital Discipline, where she works since 2001.
She completed her PhD thesis in 2008 with a theme regarding "Immunomodulators-a new therapeutic strategy in multiple sclerosis".
She has more than 220 participations in congresses, conferences, national and international symposia and she is author/co-author of more than 40 papers published in national and international journals, including those with an impact factor, and of more than 100 abstracts published in papers of the main national and international specialized conferences.
Since 2018, she has been the Head of 2nd Neurology Department in Colentina Clinical Hospital, and since 2019, she has been the Coordinator of the National Health Program for Neurological Diseases (multiple sclerosis) in this hospital, in which approximately 900 patients are included and monitored.
Having a certificate of studies in health services management from 2018, she later attended courses in the field of quality management, clinical and quality audit, as well as the training program for health services evaluators, being from 2022 a member of the evaluators group accredited by The National Authority for Quality Management in Health.
As areas of interest: multiple sclerosis, neurocognitive disorders, stroke, affective disorders associated with neurological pathologies, major depressive disorder.